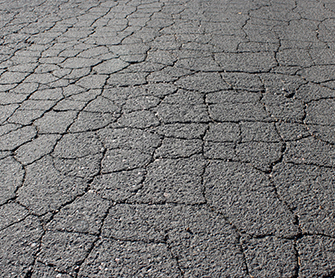 Asphalt maintenance goes far beyond sealcoating. When water seeps through cracks that will inevitably form in your asphalt, a lot of damage can occur. It's much cheaper to deal with these cracks immediately after they form than it is to neglect cracks and pay for the damage later. This is why crack filling is an essential application in addition to sealcoating if you are concerned about protecting your pavement in the long term.
What is crack sealing?
Crack sealer is a hot, sticky material made of rubber and asphalt. It isn't used to resurface, but it is perfect for filling cracks. A long-lasting resilient seal will form that is flexible and expandable, preventing the invasion of surface water.
Why crack sealer?
Even the most durable pavement will expand and contract with seasonal temperature changes. Crack sealer will extend the life of your pavement and reduce the chances of large potholes, deterioration and other pavement failures. Hot asphalt crack sealer is also useful because it can better prepare a paved surface for further maintenance such as sealcoating.
Contact us today at (716) 681-5262 for your free, no obligation estimate!