Asphalt driveways can provide a sharp, sleek look that is inviting to visitors. However, after a few years pass, that blacktop no longer looks brand new. As asphalt expands and contracts with changing weather and temperatures, cracks may appear in your pavement.
See any cracks like the ones below appearing in YOUR asphalt?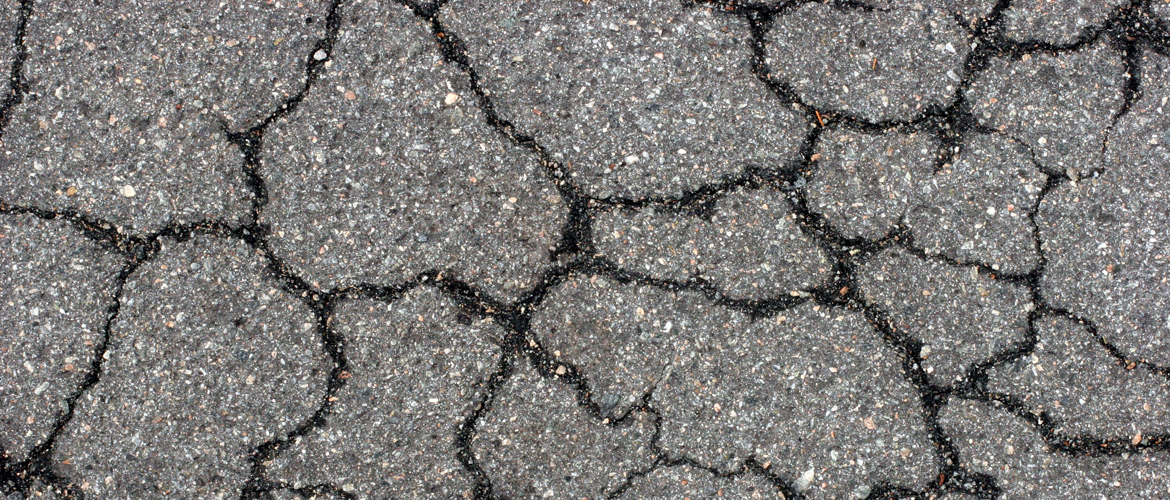 First you will get fine hairline cracks; these are usually not seen with the naked eye, but are prevalent in pavement. Then, as the asphalt continues to crumble, the hairline cracks spread and deepen. As water or ice gets into the cracks, asphalt will erode further. If you do not fix the asphalt at this point, these cracks will become larger cracks, potholes or ruts — which are dangerous and not aesthetically pleasing.
Hot asphalt crack filling is the most effective approach when repairing cracks in your blacktop. It does well in temperature extremes and will far outlast other varieties of crack sealer. Hot asphalt crack filling will prevent water from seeping through the pavement and can extend the life of your asphalt from three to five years. When water is kept out of the pavement, asphalt deterioration slows down considerably.
Blacktop maintenance goes beyond sealcoating. A combination of hot asphalt crack filling and sealcoating is usually most effective in maintaining the longevity of your pavement and parking lot.
Supreme Sealing has specialized in sealing, asphalt and pavement repair in the Western New York community for more than 25 years. With the cost of new blacktop and blacktop repairs steadily rising over the past few years, the need for crack filling (hot liquid asphalt) and seal coating as a preventative asphalt maintenance measure, has never been more apparent. For an estimate or consultation on any of the services we provide, please call our office at (716) 681-5262. Or you can fill out our contact form and we'll get back to you as soon as possible.