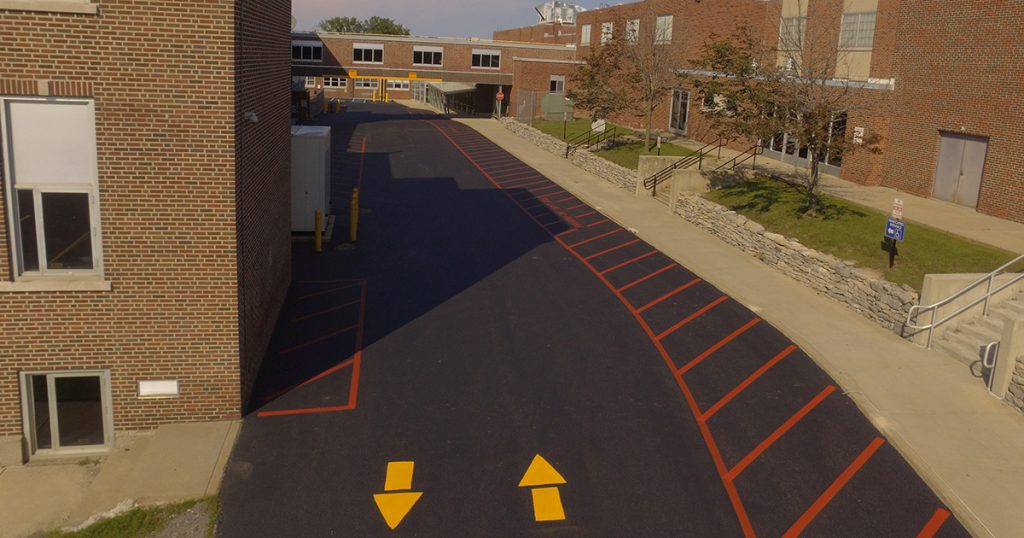 Back-To-School sales are everywhere these days so you know the countdown has begun! That also means it's time to get your school in shape for the first day. Whether you're the Principal, a School Facilities Manager, or a Grounds Manager, you understand how important it is for your building's appearance to promote a clean, safe environment for students. Once your classrooms are swept, your windows are washed, and your floors are waxed, it's time to step outside and address that soon-to-be full parking lot.
The Time For Maintenance Is Now
If you haven't done so already, August is the perfect time to repair your parking lot because school is out and with limited use, you'll experience little to no interference to daily summer activities such as summer classes, athletic practices, and teachers prepping their homerooms.
During the school year your parking lot experiences daily wear-and-tear. UV rays break down the binding that holds your asphalt together. Oil stains, vehicle traffic, and moisture that has seeped into cracks all threaten the integrity of asphalt, leading to cracks and potholes. With teachers, staff, students, and visitors all using the lot, little problems can easily become large ones.
At Supreme Sealing we offer numerous asphalt sealing and maintenance services to stop weather damage, prevent the adverse effects of oxidation, and reduce your long-term maintenance costs. Extend the life of your asphalt with regular cleaning and maintenance.
Protect Your Parking Lot
Hot Asphalt Crack Filler
Water is one of the most destructive elements for your asphalt. It seeps into cracks where it then expands and contracts, causing your asphalt to erode. Eventually these cracks become potholes that can potentially damage vehicles. Hot asphalt crack filler is a hot, sticky material made of rubber and asphalt that seals cracks to stop them from spreading or deepening. This is preventative maintenance, not repair, so consider the condition of your parking lot before committing. For larger damage, sealing cracks may not be enough.
Patchwork
Potholes are as unsightly to look at as they are damaging. If your asphalt is damaged in only small, localized spots, a simple patchwork may bring your parking lot back to life.
Striping
Striping not only defines individual spaces for cars to park, it maintains safety by sectioning off bus lanes, parent drop-off and pick-up zones, no-park lanes for emergency services, and crosswalks. Tell your staff and students where to park, walk, and stop by re-striping your parking lot before the school year starts.
Sealcoating
Prolong the life of your asphalt and protect it against oxidation, oil, water and snow, UV rays, and more by sealing your parking lot. While sealing won't fix existing problems, it can prevent future problems from popping up.
Need additional maintenance tips? Take a look at May's article "Parking Lot Cleaning Tips" for more on cleaning and street sweeping!
---
From hot asphalt cracking filling to patchwork to sealcoating, you can trust Supreme Sealing to handle your asphalt repair and maintenance as quickly and efficiently as possible. Call today for your free, no obligation quote!