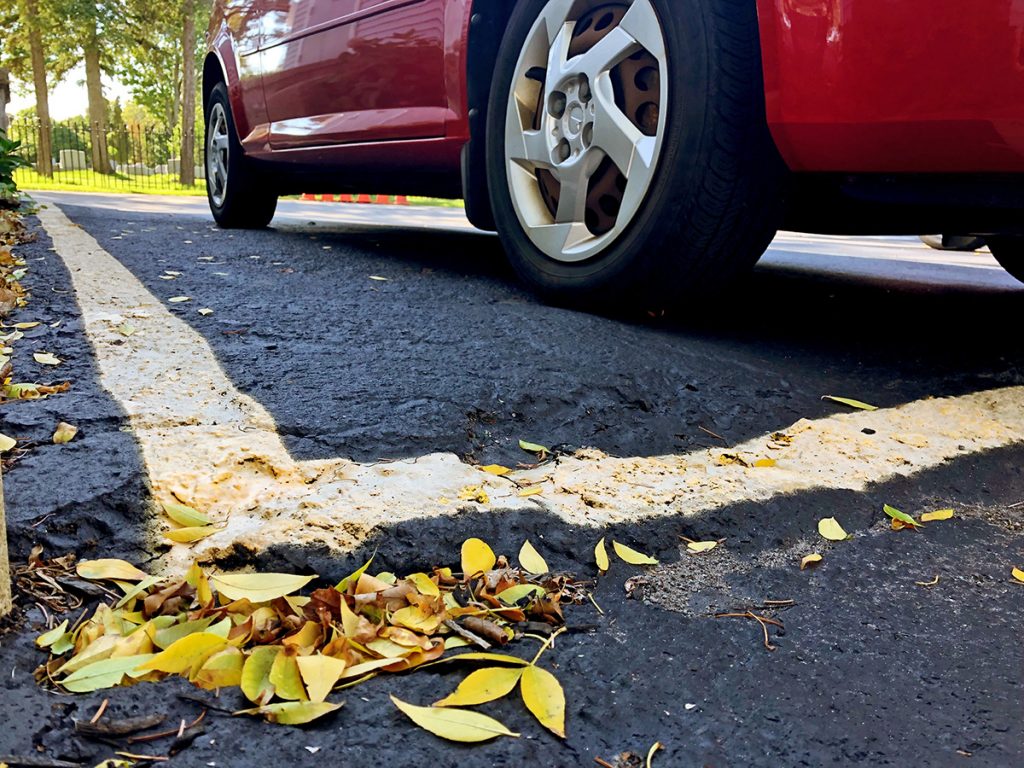 Fall has officially begun in Western New York. Now is the time for hot cider, backyard bonfires, pumpkin picking, and falling leaves. But don't let the beauty of fall distract you from what's just around the corner: winter.
Winters in Buffalo are notoriously snowy. In fact, we had over 100″ of snowfall last year alone. But above-average summer temperatures have extended long into September, and only now are we seeing a change in the weather. Which means one thing for you, a business owner: there's still time to seal your parking lot!
Fall Sealcoating
Yes, spring is the best time to seal your blacktop because the warm weather is ideal for a well-set coat. But if it's been a few years since you last had maintenance performed, you may realize it's time for a fresh seal to protect your blacktop from damage this winter. In general, you can sealcoat your parking lot as long as temperatures remain above 50 degrees. Once temps drop below that number, it's all a question of sunlight.
If you haven't already addressed your parking lot needs, contact Supreme Sealing today and get on our schedule before the season is over!
Maintenance For Protecting Your Blacktop
Preserve the integrity of your blacktop and get your parking lot ready for winter with these general maintenance tips we shared last season in "Preparing Your Asphalt For Winter" or keep reading to learn more about our services.
Cracks and Potholes
You may have noticed an increase in thunderstorms but soon you'll be noticing another form of precipitation: snow. Water may be good for your body but it's not good for your blacktop. Once it seeps into surface cracks, water expands and contracts, causing deterioration and damage. This also creates structural issues in lower base layers, destroying your parking lot's foundation.
If left unattended, these cracks become potholes that––when hidden beneath a layer of snow––can potentially damage vehicles. Hot asphalt crack filler is a hot, sticky material made of rubber and asphalt that seals cracks to stop them from spreading or deepening. Hot asphalt crack filler and patchwork are both preventative maintenance, not repair, so extend the life of your blacktop by first repairing, then sealing it.
Sealcoating
Sealing provides a protective barrier against oxidation, oil, water penetration, snow damage, chemical damage (like harsh road salts), UV rays, and more. While sealing won't fix existing problems, it can prevent future problems from popping up, saving you money in the long run. Learn more about the benefits of sealcoating.
Striping
Striping not only defines individual spaces for cars to park, it maintains safety by marking handicap parking spaces, curbs, loading zones, special markings, crosswalks, and more. Having fresh striping means those vibrant colors remain noticeable even as snow and slush begin to collect.
In search of additional maintenance tips? Check out May's article "Parking Lot Cleaning Tips" for more on cleaning and street sweeping!
---
From hot asphalt cracking filling to patchwork to sealcoating, you can trust Supreme Sealing to handle your asphalt repair and maintenance as quickly and efficiently as possible. Call today for your free, no obligation quote!