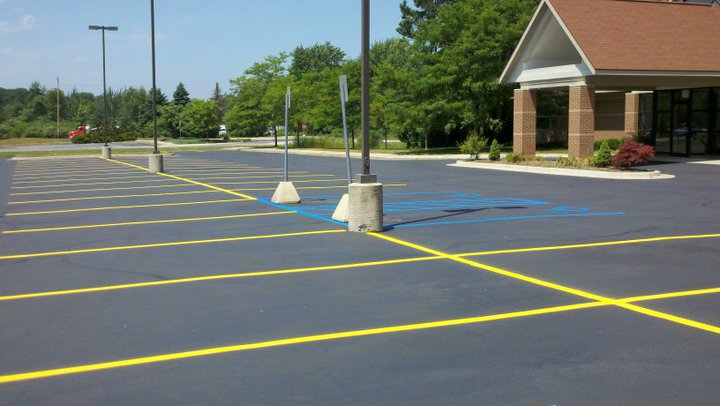 When thinking about your pavement, choose the environmentally friendly option. The modern definition of a sustainable material is one that does not have an adverse effect on critical ecologies or the greater environment despite being produced in large quantities from renewable resources. Asphalt meets all of the requirements for a sustainable material. From production to paving, maintenance to recycling, asphalt has a low impact on the environment. The low consumption of energy for production and construction, low emission of greenhouse gases, and conservation of natural resources help to make asphalt the environmental pavement of choice.
Why choose asphalt?
The energy input of making asphalt is higher than that of making concrete, but asphalt can be recycled – it is the most recycled material in the US – so the energy cost is much lower over a long time.
Asphalt doesn't have as much toxic waste because it uses much less ore and fertilizers.
Asphalt has a much smaller carbon footprint.
Making an asphalt roadway is much faster than making a concrete roadway, because of the curing time of the concrete, so this can be a decisive factor if this affects the productivity of the road.
Efficient
Because asphalt stores heat and reflects it upward, it has been wrongly accused of contributing to greenhouse gases and climate change. However, asphalt is environmentally friendly with the materials available today.Over the last few decades, however, the asphalt industry developed new techniques to reduce pollutants far below the standards set by the EPA. As a result, the EPA does not consider asphalt plants to contribute to pollution to any significant degree. The production and laying of asphalt only require about 80% of the energy it takes to pave surfaces with other materials. In addition to the reduction in energy during construction, there is less energy consumed by traveling on asphalt once the road is in use. Asphalt pavements can be repaired and reopened to traffic quickly, minimizing the congestion of traffic that leads to unnecessary consumption of fuel.
Recyclable
Asphalt is completely recyclable. Asphalt Recycling benefits the environment in many ways, but overall it reduces quarrying, mining and oil consumption. Recycling asphalt also dramatically reduces the consumption of resources such as fuel, machinery, transportation, and labor when compared with producing virgin asphalt materials. Every year, the pavement industry recycles or reuses about 65 million tons of asphalt. That is 99% of the material being replaced. In addition, asphalt can be mixed with other recyclable materials to achieve specific effects. Some of the most common are rubber from used tires, glass, and asphalt roofing shingles. When maintaining and replacing your asphalt, only the top layer needs to be replaced. The bottom layers can be used over and over again with results matching those of completely new asphalt.
When choosing paving materials, pick the environmentally friendly choice. Supreme Sealing has specialized in sealing, asphalt and pavement repair in the Western New York community for more than 25 years. For an estimate or consultation on any of the services we provide, please call our office at (716) 681-5262. Or you can fill out our contact form and we'll get back to you as soon as possible.