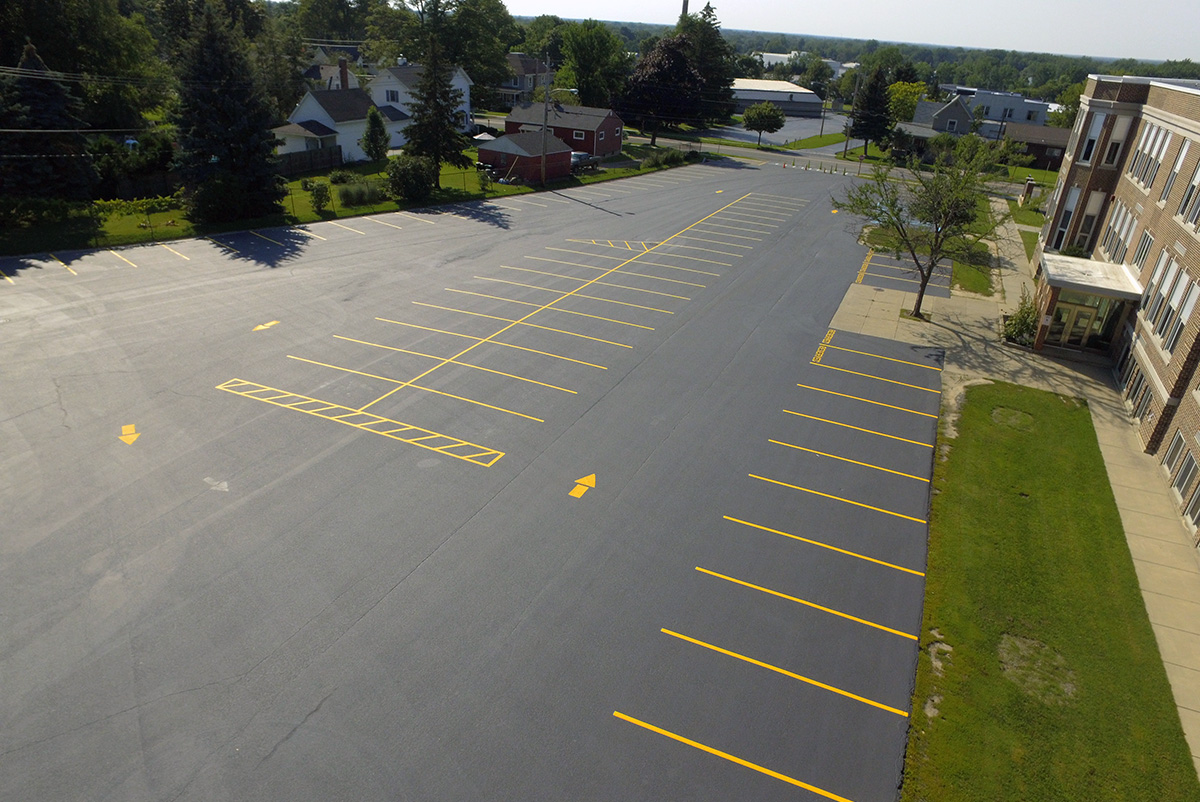 How your parking lot looks will make a big impression on how people see the quality of your business. An unsightly parking lot can drive away customers and drive tenants away from your building. With the help of regular maintenance and cleaning, you can turn lost sales into potential profits. Keeping that in mind, cleaning doesn't only increase curb appeal to make a good first impression. Regular cleaning does so much more.
[one_half]
Here are some reasons why you should maintain your parking lot:
Regular street sweeping and maintenance extends the life of asphalt, especially porous asphalt.
A clean parking lot discourages littering.
Clean parking lots minimize pollution to local waterways.
A clean lot can protect your business from lawsuits.
Proper cleaning and care prevent erosion.
A clean exterior prevents rodents and other pests from moving in.
[/one_half]
[one_half_last]
Cleaning or Street sweeping also:
Remove surface dirt and debris.
Reveals necessary repairs, like cracks and potholes
Ensures your asphalt doesn't get stained or damaged over time
Cleans away harmful vehicle fluids that can deteriorate your asphalt.
Save you money over time and keep your parking lot looking like new.
[/one_half_last]
Cleaning Tips for Parking Lots
Investing time and money to maintain your parking lot can save you money in the long run. A well maintained surface can last upwards of 15 years. Extend the life of your asphalt with regular cleaning and maintenance. Here are some tips for cleaning your asphalt parking lot.
Asphalt Cleaning Tips: If you are looking to clean away grease, try a mix of Trisodium phosphate (TSP), bleach and baking soda. Apply the mix directly to the stain, then use a broom with firm bristles to scrub it away.
Mulch or Leaf Stain Tips: Trees and plants really help if you are trying to boost curb apeal, but mulch and leaves can stain your asphalt. When attacking these stains, apply soap or vinegar to the surface and scrub it with a brush using circular motions. Then rinse the solution away using low pressure. If the stain is still there, use one capful of bleach with one gallon of water and scrub the stain using small circular motions. Allow the solution to sit for 30 minutes and wash away with warm water.
Oil Cleaning Tips: Grease and oil spots are common stains for parking lots. If you see motor oil spilled on your surface, blot up as much of the oil as possible. Then use kitty litter as an absorbing agent and let it sit on the stain overnight. When the excess oil is soaked up, sweep away the kitty litter. If the stain still persists, try using TSP or a commercial degreaser to break down the oil.
---
A good sweeping and cleaning will reveal needed repairs and prevent long-term damage. You can see the cracks, potholes and parking lot damage, but how do you know if you need a full reconstruction or a repair? Rest assured, Supreme Sealing can help. We pride ourselves on providing excellent service and a professional, cost effective way to seal your blacktop and maintain your parking area investment.